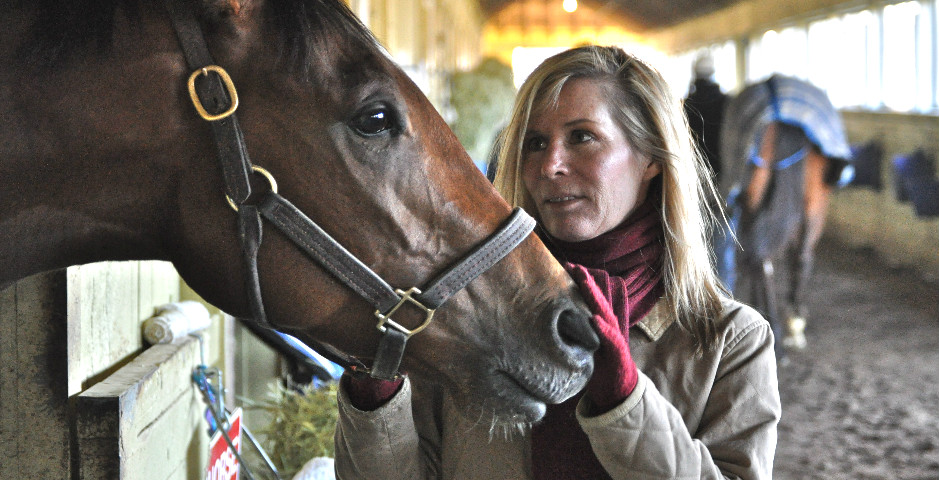 From wins and training titles to awards and earnings, Linda Rice is known in thoroughbred industry as the most decorated female trainer in history. But that distinction doesn't fully encapsulate what the third-generation trainer has accomplished over the past 20 years.She has been one of the top ten trainers in New York for the last decade and is currently the leading female trainer in North America.
Racing is deeply engrained in Rice's heritage. The foundation for Rice's success began in the fields of Wisconsin, where she grew up breaking, training and developing young horses for her father, Clyde Rice. Like other top trainers, her father was a highly successful thoroughbred horse trainer himself. Clyde Rice was on top of the trainer standings in Pennsylvania for more than a decade. Rice's father grew up with hall of fame trainer Wayne Lukas in Central Wisconsin. Both Clyde and Wayne engrossed themselves in the thoroughbred industry and had a huge impact on Rice's future.
After starting her career as an exercise rider and assistant trainer, Rice obtained her training license in 1987 and began saddling horses full-time in the New York and New Jersey Circuit. The victories soon followed, as well as important industry milestones becoming the first woman to saddle a Grade I winner at Keeneland in 1998 when she won the Queen Elizabeth II Challenge Cup with the three-year-old filly Tenski.
Rice made her initial mark at Saratoga when she won back-to-back graded stakes in Saratoga's prestigious two-year-old filly series, winning the Adirondack and the Grade 1 Spinaway with Things Change. Rice built on her success at Saratoga in 2000 with City Zip, sweeping all of Saratoga's graded stakes for two-year-olds. Rice was later honored with the Fourstardave Award for Outstanding Achievement by the New York Turf Writers Association for this accomplishment.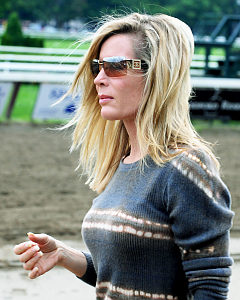 Rice has amassed more than 1,200 wins – a number that continues to steadily rise – and more than $40 million in earnings. The victories have led her to four New York training titles since 2009, when she took top honors at Saratoga Race Course and became the first woman to win a training title in the 150-year history of the sport.
The strength of her barn was no more apparent than on a record-breaking afternoon at Saratoga, when she took the top four spots in the Mechanicville Stake in 2008 – a historic feat commonly known as the Rice Superfecta; but this was a mere precursor to her ensuing and unprecedented body of work in 2009.
Rice was recently named "2013 Trainer of the Year" by the New York Thoroughbred Breeders; she had also received this honor in 2009 and 2010 as well. Having garnered national attention for her accomplishments, she was also named a "Woman of Influence" by the Thoroughbred Times, joining achievers such as Penny Chenery, owner of Secretariat. Rice won back-to-back training titles at Aqueduct in 2011 and 2012. She later tied Todd Pletcher for top honors in the Spring/Summer meet at Belmont Park in dramatic fashion with her 1,000th career victory.
Rice continued to raise the bar in 2013, setting a personal record of 102 wins in a year and earnings of $4.9M while winning at an impressive 21 percent clip. She finished second in the trainer standings at the 2013 Belmont fall meet, highlighted by a victory with Palace on Empire Showcase Day – the sixth win in nine starts by the 4-year-old son of City Zip since being claimed by Rice a year earlier.
Off the track, Rice serves as a board member of the New York Thoroughbred Horsemen's Association. Rice also devotes a lot of energy to her duties as Chair of the NYTHA Scholarship Committee. It was a post she sought upon her election to the Board in 2002.Under her stewardship, NYTHA has awarded nearly $1.2 million in grants to support the educational needs and aspirations of backstretch workers and their families over the past decade.
Statistics
CAREER RECORD (Last updated 1/4/21)
11,193      2,070        1,697        1,559     $84,048,710
2021 RECORD (Last updated 1/4/21)
12      1        1        1     $56,159
2020 RECORD
482      79        84        78     $4,035,920
2019 RECORD
660      145        122        99        $7,258,064
2018 RECORD
606      130        100        92        $6,914,061
2017 RECORD
664      166        107        93        $7,107,114
NEW YORK TRAINING TITLES
2020 Aqueduct Winter, 40 victories
2019 Aqueduct Winter, 45 victories
2017 Aqueduct Spring, 12 victories (tie)
2012 Aqueduct Spring, 13 victories
2011 Belmont Spring/Summer, 25 victories (tie)
2011 Aqueduct Spring, 9 (tie)
2009 Saratoga, 20 victories
OTHER TRAINING TITLES
2017 Laurel Winter, 27 victories (tie)
CAREER HIGHLIGHTS
Became the first woman to win a training title in New York by saddling 20 winners at Saratoga in 2009, edging Todd Pletcher by a single victory
The Saratoga training title marked the first ever by a woman at a major racing venue
Won a total of seven training titles in New York and one in Maryland
Scored 2,000 career victories in January 2020
Awarded Trainer of The Year by the New York Thoroughbred Breeders Association seven times
Sent out the top four finishers in the 2008 Mechanicville Stakes at Saratoga, won by Ahvee's Destiny, a first in US Racing History, known as the Rice Superfecta
Saddled City Zip to sweep Saratoga's Juvenile Stakes in 2000; the Sanford, Saratoga Special and Hopeful, the fourth juvenile to do so in history
Presented with the Fourstardave Award for Outstanding Achievement in Saratoga in 2000 by the New York Turf Writers Association
Won the Grade I Queen Elizabeth with Tenski in 1998, making her the first woman to win a graded race at Keeneland
Won first Grade I with Things Change in the 1998 Spinaway