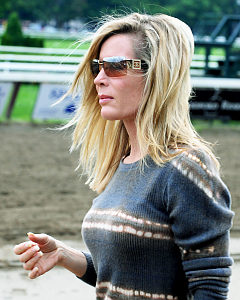 In addition to her historic Saratoga crown in 2009, Rice won back-to-back training titles at Aqueduct Racetrack during the 2011 and 2012 spring meets and shared the title for top trainer at the 2011 Belmont Park spring/summer meet. She was able to secure her spot atop the trainer standings for the 2011 Belmont meet in dramatic fashion with win number 1000 in her career. In a profession dominated by men, Rice has excelled on her own terms and was named to the 2010 list of "Women of Influence" by the Thoroughbred Times, joining achievers such as Penny Chenery, owner of Secretariat.
Racing is deeply engrained in Rice's heritage. Born in Wisconsin, Rice is a third-generation thoroughbred trainer. She was active in the breaking, training and development of young horses for her father Clyde Rice. An exercise rider and assistant trainer for many years, her passion for racing led her to training thoroughbreds full-time in 1987. At the age of 23, Rice obtained her trainer's license and moved to the New Jersey and New York circuits, saddling her first winner on June 3, 1987 at Garden State Park.
Rice experienced a series of accomplishments in the 1990s, including her first graded-stakes win with the filly Double Booked and becoming the first woman to saddle a Grade 1 winner at Keeneland when she won the Queen Elizabeth II Challenge Cup with the three-year-old filly Tenski.
In 1998, Rice made her initial mark at Saratoga when she captured back to back graded stakes in Saratoga's prestigious two-year-old filly series, winning the Adirondack and the Grade 1 Spinaway with Things Change. In 2000, Rice negotiated a rare feat with City Zip when she swept the Sanford, Saratoga Special and Hopeful, Saratoga's series of graded stakes for two-year-olds. That same year, Rice was presented with the Fourstardave Award for Outstanding Achievement at Saratoga Race Course by the New York Turf Writers Association.
Over the years, Rice's name has become synonymous with success. In 2007, she saddled six straight winners at Saratoga, a remarkable achievement, but a mere precursor to her ensuing and unprecedented body of work in 2009 when she became the first woman in history to win a training title at Saratoga or any top-tier racetrack. She was subsequently named 2009 Trainer of the Year by The New York Thoroughbred Breeders.
Rice followed up her historic victory by placing second in the trainer standings at Saratoga in 2010. From 2008 through 2010 at the Saratoga meets, Rice won 10 stakes races and 10 allowance races, considered the sport's most prestigious and competitive races, in addition to 10 maiden special weights races and 12 claiming races.
Rice continues to build her business, including her decision in late 2012 to bring a string of horses to Penn National Race Course, the place where she learned to gallop horses as an exercise rider at the age of fifteen. Rice continues to remain a staple at Gulfstream Park in Florida and on the New York circuit.
Off the track, Rice serves as a board member of the New York Thoroughbred Horsemen's Association (NYTHA). She is also head of the NYTHA scholarship committee, which has awarded nearly $1.2 million in grants to support the educational needs and aspirations of backstretch workers and their families over the past decade.
In her spare time, Rice enjoys films and playing the piano. She also takes pride in interior decorating, a hobby which extends to her home in Floral Park.
Linda Rice Facts
2012 RECORD
627          76            85            96            $3,223,314
2011 RECORD
536          83            76            78           $2,429,743
NEW YORK TRAINING TITLES
2012 Aqueduct Spring, 13 victories (win)
2011 Belmont spring/summer, 25 victories (tie)
2011 Aqueduct spring, 9 (tie)
2009 Saratoga, 20 victories (win)
CAREER HIGHLIGHTS
Became the first woman to win a training title in New York by saddling 20 winners at Saratoga in 2009, edging Todd Pletcher by a single victory
The Saratoga training title marked the first ever by a woman at a major racing venue
Tied the 2011 Belmont Spring Training Title with Todd Pletcher, also recording her 1,000th victory as a trainer
Tied the Aqueduct Spring Meet Training Title in 2011 with David Jacobson
Won the Aqueduct Spring Meet Training Title in 2012 by two over Rick Dutrow & Rudy Rodriguez
Awarded Trainer of The Year by the NY Breeders Association both in 2009 and 2010
Sent out the top four finishers in the 2008 Mechanicville Stakes at Saratoga, won by Ahvee's Destiny, a first in US Racing History, known as the Rice Superfecta!
Saddled City Zip to sweep Saratoga's Juvenile Stakes in 2000; Sanford, Saratoga Special and Hopeful, the fourth Juvenile to do so in history
Presented with the Fourstardave Award for Outstanding Achievement in Saratoga in 2000 by the New York Turf Writers Association
Won Grade 1 Queen Elizabeth with Tenski in 1998, First woman to win a graded race at Keeneland
Won first Grade 1 with Things Change in the 1998 Spinaway
ADDITIONAL INFORMATION
Serving third term as board member of the New York Thoroughbred Horsemen's Association & Chairman of Scholarship Committee.
Studied computer science at Penn State
INTRODUCTION TO RACING
Third-generation horse trainer; Father Clyde grew up with Wayne Lucas in Wisconsin. Linda began her training Career at the age of 23.